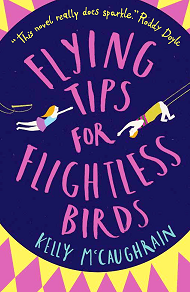 Flying Tips for Flightless Birds is published by Walker Books, March 2018
It's also available as an audiobook narrated by Joseph O'Hagan.
Twins Finch and Birdie Franconi are stars of the flying trapeze. But when Birdie suffers a terrifying accident, Finch must team up with the geeky new kid, Hector Hazzard, to form an all-boys double act and save the family circus school.
Friendship, first love, freaking out … that's a lot for two confused clowns to juggle. Can Finch finally face up to his feelings and take the most daring leap of all?
"This novel really does sparkle.  It is witty and clever, and packs a very well-aimed punch." – Roddy Doyle
"This book made me want to run away and join the circus. A delightful read about accepting and embracing the qualities that make us unique; Kelly McCaughrain is one to watch." – Susin Nielsen
"A quirky and complex story, told with an elegant simplicity that hooks you from the first few pages… Vibrant, funny, moving and thought-provoking." – The Bookbag
Not braggin, but…
Flying Tips for Flightless Birds has won:
The Children's Books Ireland Book of the Year Award 2019
The Children's Books Ireland Children's Choice Award 2019
The Children's Books Ireland Eilís Dillon Award 2019
The Northern Ireland Book Award 2019
And has been:
Nominated for the CILIP Carnegie Medal 2019
Shortlisted for the Great Reads Awards
Shortlisted for the Essex School Library Book Awards
Shortlisted for the Calderdale Children's Book of the Year
Longlisted for the Bristol Teen Book Award
Longlisted for the Southern Schools Book Awards
Featured in the Guardian's Best New Children's Books 2018
Featured in the Irish Independent Top 50 Children's Books 2018
Other Writing
My short story, 'The Hummingbirds', was runner up in The Moth Short Story Competition 2016
My novel Zach in the Making was shortlisted for the 2013 Times/Chicken House Children's Fiction Prize